A person with Narcissistic Personality Disorder will generally have come from a background of personality disordered parents. NPD families are very hierarchical and the person with the most power will be at the centre. The dynamic of the family will function in a cult like way with the head of the family dictating the rules and reality to the rest of the family members. Dissent is forbidden.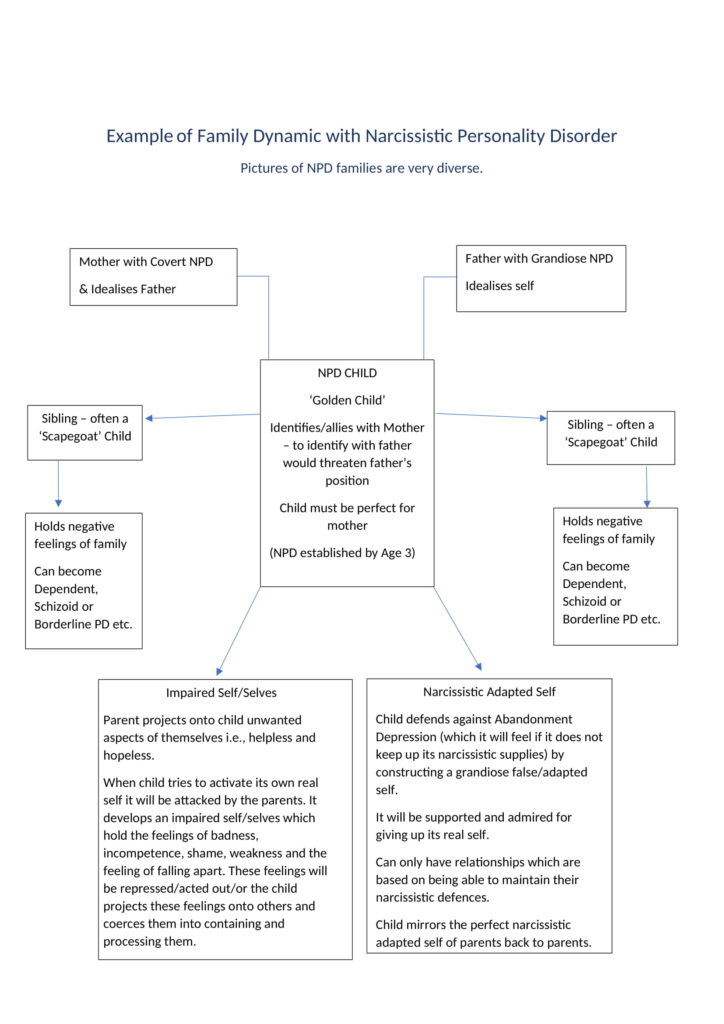 NPD Relationships are Diverse
Those with narcissistic personality disorder are often from maladapted families where at least one of the parents has NPD. In the example above, we see that the father is a grandiose narcissist and the mother is a covert narcissist. It demonstrates the intergenerational patterns of NPD.
People with NPD cannot have healthy close relationships as this will interfere with their narcissistic defences. Therefore, they will often choose partners who are unavailable such as those who are married or live a long distance away. They may be workaholics to avoid the home. Alternatively, they may have no or few partners or have a partner they devalue but are apparently devoted to or a partner that devalues them. They are attracted to attributes in another that will give them narcissistic supply such as beauty, wealth and power. If these qualities disappear then the feelings for that person will also disappear. They may go into narcissistic rages when their entitled needs are not met.
Partners of narcissists may have Narcissistic, Borderline, Schizoid or Dependent Personality Disorder or other. They are likely to have also had a narcissistic parent and will also feel comfortable in a relationship where they can keep the defences they have built in childhood intact and this means their partner will be someone similar to their parents.
Self-Activation = Feelings of Abandonment Triggered = Defence 
The issue that many people have that have come from dysfunctional backgrounds is rooted in the fact they were punished/abandoned/rejected when they tried to be themselves and 'self-actualise' at an early age. The real self became buried and hidden from consciousness. Attempting to self-actualise triggers buried feelings of anger, rejection, weakness, self-hatred, shame, guilt or a sense of the self falling apart and this in turn triggers the person to go into defence. This means they use their preferred go to method of self-soothing – whether this be addictive behaviours or other type of distraction/defence mechanism. Defences and the adapted self are a refuge from the pain of the rejected real self. 
A child of a narcissist will avoid triggering the buried feelings by avoiding asserting themselves or expressing their wishes and therefore they do not activate their unique personality. The rejection of their real self by the mother is intolerable and painful. The price that had to be paid as a child for feeling safe was their submission to the mother's will.
The Golden Child and Scapegoat Child Dynamic
The role in which the narcissistic parent places the child may also be influential. Narcissistic parents will often idealise one child and devalue another. These roles are known as 'golden child' and 'scapegoat'. The idealised 'golden' child will often go on to become a person with NPD themselves. The devalued 'scapegoated' child may become someone with Shizoid, Dependent or Borderline personality disorder or they may develop anxiety or a panic disorder.
Both the golden children and the scapegoated children are not accepted as themselves by the NPD parent and they develop a complex set of defences. 
Intergenerational Trauma
Trauma is intergenerational and the cycle will continue until it can be broken through self-awareness and the healing which comes with it.
In the case of narcissism, in a family where there is NPD and other personality disorders, all of the family members in all generations will be affected. Many people may be unaware of their patterns of behaviour and the legacy they are passing on. People may vow to never be like their parents but unless that inner work and healing is done it is usually inevitable that those patterns/wounds will be passed on to the next generation.